Once a domain transfer has started, GoDaddy will send you an email.  If you do not see the email in your inbox, please check your spam / junk folder.
An example: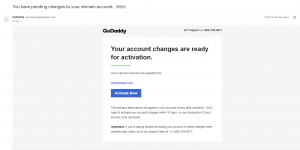 2. Select 'Activate Now' button in the email -> once you click on it, it will bring you to your GoDaddy account.
3. On the page 'Authorize Transfer' select 'Yes, Accept the Transfer'.

4. It brings you to second page 'Action Needed' where you need to add your contact information for the domain. Fill in all the details.
Select 'Use for all contact types'.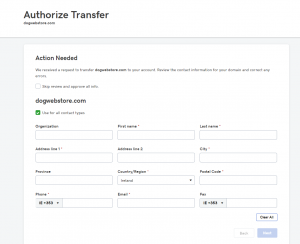 Select 'I certify that I am either the individual named above or authorized to act on their behalf' and then select 'Next'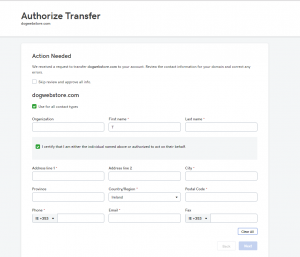 5. Click to confirm the acknowledgement of the domain transfer and then select 'Begin Transfer'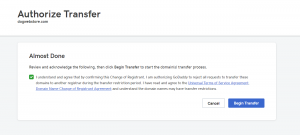 6. You will receive a notification message that you have changed the registrant details and the domain Godaddy has sent an email to approve the update to the seller.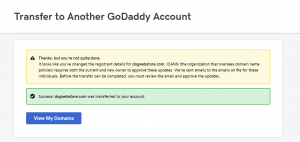 7. The Seller will now receive an email to confirm the domain transfer details.
8. Once confirmed by the seller, you will receive a second email from Godaddy, select 'Review and Approve the Update' button in the email.
9. Confirm Contact Information Update, Select 'Yes, Update Contact Information'.
The current owner's and your details will be displayed below.
10. You will receive a confirmation that the Update has been submitted.

11. You will receive two emails from Godaddy with confirmation that the domain has been successfully transferred to your account.

Your domain transfer has been successfully completed email.
The domain ownership update is complete email.
12. The domain transfer has been completed.