Following the relentless rally throughout last year, the price action in the major US stock market indices over the last six months has felt like purgatory. After seeing a blowoff top to new record highs at 2875, the has been consolidating in a lackluster range between 2600 and 2800 since the start of February, frustrating both bulls and bears alike.
Buying Pressure
Looking at the chart, prices are showing a potential "cup-and-handle" pattern over that time period. Similar to a more traditional "ascending triangle" pattern, a cup-and-handle shows growing buying pressure within a range and projects a strong continuation rally if prices are able to break above the pattern's "neckline" (near 2800 in this case). Specifically, the measured move objective of the pattern would project at least a 200-point rally in the index, which would take it to above 3,000, though the previous record high near 2875 could certainly present resistance if/when the S&P 500 retests it.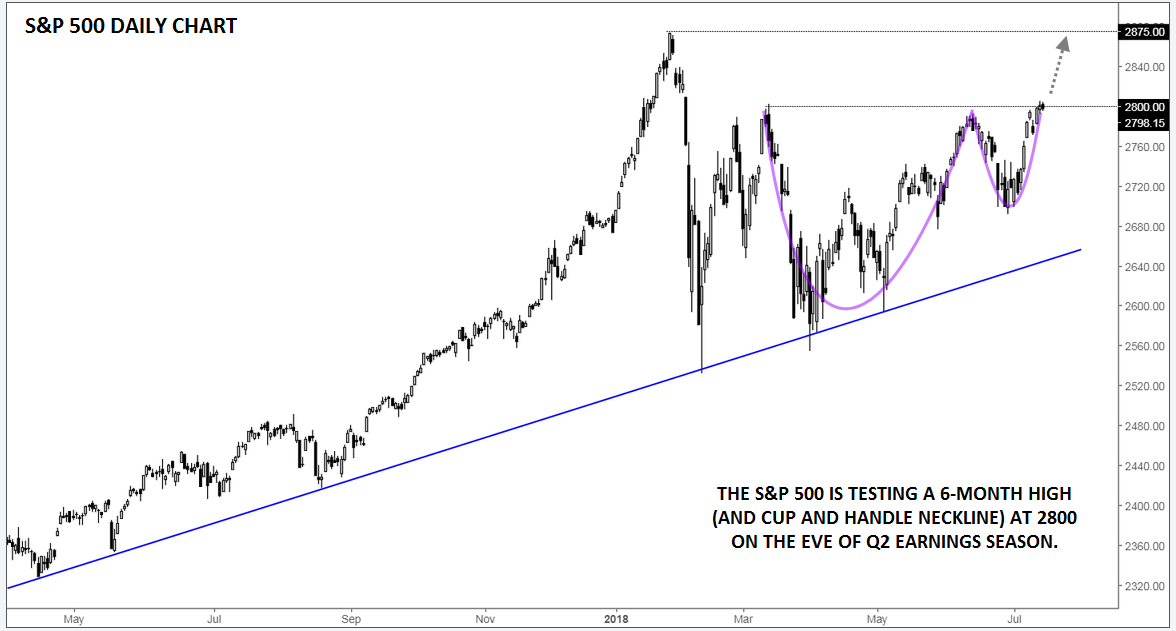 Daily S&P 500
Source: TradingView, FOREX.com
With the technical setup in the broader market pointing to a possible rally, the most important fundamental development to watch will be the results of Q2 earnings season. So far, just 5% of the companies in the S&P 500 have reported their earnings from Q2, but the vast majority of firms will release updates in the next month.
Big Growth Expected
According to the earnings mavens at FactSet, aggregate earnings are expected to grow at a stellar 20% annual rate, thanks largely to the big Republican tax cut passed late last year. In terms of themes to watch through this earnings season, readers should think globally. The escalating trade tensions between the US and other countries could take a bite out of multinational companies' performance, with the impact likely to be particularly heavy in industries where tariffs have already been enacted, such as and manufacturers.
Other global macroeconomic factors are likely to feature heavily in large-cap company conference calls. For one, the has rallied by more than 5% over the last three months, likely taking a bite out of exporters' revenues. Meanwhile, have surged by 50% from the levels seen at this time last year, increasing frictions for just about every industry, besides energy! Finally, Fed watchers will be looking for signs that firms are having trouble filling job openings (including rising compensation costs) as a sign that the "slack" in the labor market is starting to tighten. The lack of acceleration in wages remains a point of frustration for economists and clearly signals that growing wage pressures could give the Federal Reserve more confidence to raise twice more this year.
Cheers