The is showing little movement in the Wednesday session. Currently, the DAX is at 12,339, down 0.08% on the day. In economic news, improved to 54.5, beating the estimate of 53.9. rose to 55.2, above the forecast of 55.0 points. On Thursday, Germany releases and the eurozone releases .
Chancellor Angela Merkel is working overtime to save her coalition, and the latest crisis she is facing is over migration policy. Interior Minister Horst Seehofer had threatened to resign over the migration agreement that EU leaders reached in Brussels last week, but has decided to remain in the government. Merkel's proposal involves setting up special transit centers at the border with Austria and having refugees return to EU countries were they had first registered, but Austria has expressed concern with the plan. The EU remains split on migration policy, and if Germany's political crisis continues, European equity markets could fall.
The DAX is coming off another rough week, in which it declined 1.5 percent. Recent trade tensions are threatening to hamper the eurozone export sector, which in turn could weigh on manufacturing output. Investors are keeping a close eye on German and eurozone manufacturing PMIs, which are bellwethers of the strength of the manufacturing sector. In June, the German and eurozone readings pointed to expansion but also continued a downward trend. Both PMIs have now dropped for six straight months, raising concerns among investors about the strength of the eurozone economy. Germany, the locomotive of the eurozone, produced soft consumer numbers last week. Retail Sales plunged 2.1%, its steepest decline in 2018. As well, Preliminary CPI fell to 0.1%, down from 0.5% a month earlier.
Economic Calendar
Wednesday (July 4)
3:15 Spanish Services PMI. Estimate 56.3. Actual 55.4
3:45 . Estimate 53.3. Actual 54.3
3:50 French Final Services PMI. Estimate 56.4. Actual 55.9
3:55 German Final Services PMI. Estimate 53.9. Actual 54.5
4:00 Eurozone Final Services PMI. Estimate 55.0. Actual 55.2
Thursday (July 5)
2:00 German Factory Orders. Estimate 1.1%
4:10 Eurozone Retail PMI
7:15 German Buba President Weidmann Speaks
8:15 US ADP Nonfarm Employment Change. Estimate 190K
8:30 US Unemployment Claims. Estimate 231K
10:00 US ISM Non-Manufacturing PMI. Estimate 58.3
14:00 US FOMC Meeting Minutes
*All release times are DST
*Key events are in bold
DAX, Tuesday, July 4 at 7:40 DST
Previous Close: 12,349 Open: 12,321 Low: 12,299 High: 12,351 Close: 12,339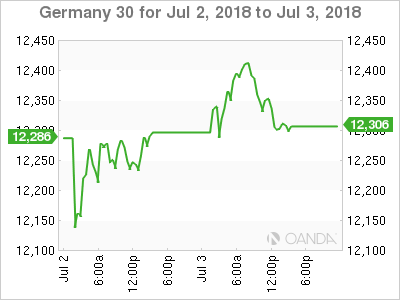 Germany 30 Chart