Index Futures Net Changes and Settlements:

Index Futures

Foreign Markets, Fair Value and Volume:

In Asia 7 out of 11 markets closed lower: Shanghai Comp -0.97%, +0.50%, -0.01%
In Europe 12 out of 13 markets are trading lower: -0.61%, -1.12%, -0.22%
Fair Value: S&P +1.51, NASDAQ +19.12, -16.90
Total Volume: 2.09mil ESU & 562 SPU traded in the pit

Today's Economic Calendar:
Today's economic calendar includes Weekly Bill Settlement, GDP 8:30 AM ET, Jobless Claims 8:30 AM ET, Corporate Profits 8:30 AM ET, Bloomberg Consumer Comfort Index 9:45 AM ET, EIA Report 10:30 AM ET, James Bullard Speaks 10:45 AM ET, Kansas City Fed Manufacturing Index 11:00 AM ET, Farm Prices 3:00 PM ET, Fed Balance Sheet and Money Supply 4:30 PM ET.
S&P 500 Futures: Sell (-1.63%) Buy (+12.50%)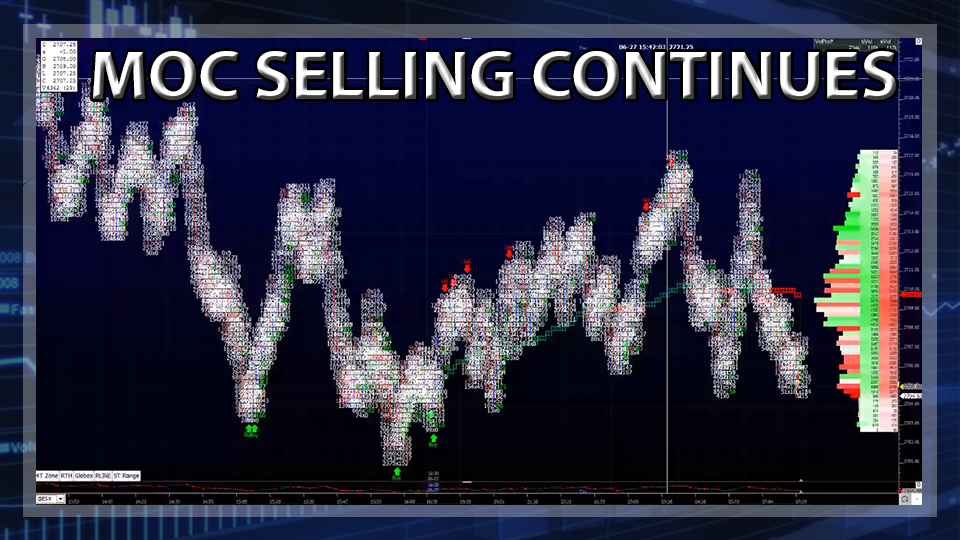 S&P 500 Futures
Wednesday's trade started with the down -1.1%, the up +0.72% at midday, and the up +0.54% before the open as traders weighed mixed signals from the U.S. and China about future tariffs which could hurt both countries economies. President Trump backpedaled saying he would scrap plans for new restrictions on Chinese investment in U.S. technology and "rely mainly on existing tools to guard against the purchase and the theft of innovations vital to the U.S. economy." This is a big step back from the Trump administration's stance over the last several weeks, and it helped push the markets up sharply early in the session.
On Globex, the S7P 500 futures sold off down to 2705.50, down 23 handles, as trade worries continued to hang over the markets, then made a high at 2733.50 after the Trump headlines came out at 6:45. Over 415,000 (ESU18:CME) emini futures traded before the open. The first print of the day on the 8:30 CT open was 2732.50, and after several small upticks and downticks the ES rallied to 2748.00 at 9:45 CT, up 19.50 handles on the day and up 42.50 handles from the globex low.
The futures began to pull back after Larry Kudlow said 'Trump was not retreating on China' and that 'Trump wants a new world trading system with no tariffs.' Not long after the ES traded down to 2729.25. After the drop the futures traded back up to 2741.75, and then sold back off down to 2728.25 before puking down to 2715.00 when the NQ nose dived down to 7029.25. After a small bounce up to 2722.50 the ES traded back down to 2713.50, rallied back up to 2721.00, then got slammed back down to a new low at 2712.75.
After the new low the futures rallied a few handles and then made a new low at 2711.75. The ES rallied back up to the 2720.00 area and sold off down to a new low at 2708.50 as a 2:00 margin sell program hit, and then took out the Globex low on the way down to 2703.25. As the MiM went from $575 million to sell, to $748 million to sell, to $1.3 billion to sell, the ES popped back up to the 2715.00 area. The ES traded 2711.50 as the final 2:45 MiM showed $2.4 billion for sale, traded 2701.75 on the 3:00 cash close, and then went on to settle at 2705.50, down -16.25 handles on the day, or down -0.60%.
In the end, the key to yesterday's trade was the Russell 2000 (RTYU18:CME). When the ES was on its high, the RTY was only up a few points. Yes, the NQ dragged down the ES, but the RTY was the key to the whole day. In terms of the markets overall tone, it was extremely weak. In terms of the days overall trade, it was big, over 2 million ES traded.
Disclaimer: Trading Futures, Options on Futures, and retail off-exchange foreign currency transactions involves substantial risk of loss and is not suitable for all investors. You should carefully consider whether trading is suitable for you in light of your circumstances, knowledge, and financial resources. Any decision to purchase or sell as a result of the opinions expressed in the forum will be the full responsibility of the person(s) authorizing such transaction(s). BE ADVISED TO ALWAYS USE PROTECTIVE STOP LOSSES AND ALLOW FOR SLIPPAGE TO MANAGE YOUR TRADE(S) AS AN INVESTOR COULD LOSE ALL OR MORE THAN THEIR INITIAL INVESTMENT. PAST PERFORMANCE IS NOT INDICATIVE OF FUTURE RESULTS.