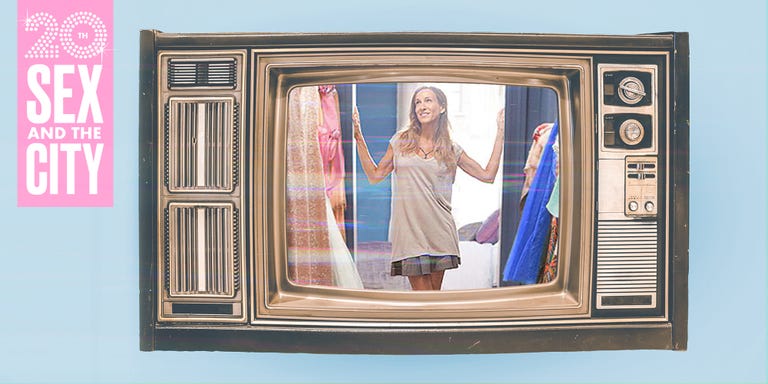 Getty ImagesDesign by Mia Fietel
The very first episode of Sex and the City premiered 20 years ago this month. To mark this auspicious anniversary, ELLE.com is celebrating some of its most ridiculous, memorable and controversial moments—from the fashion to the flings.
On the first Saturday of June 1998, Sex and the City premiered on HBO. My family didn't have cable—let alone premium channels—so I missed its debut, but the show appeared on my radar a few years later, when I was a financial aid kid at boarding school, watching pirated episodes on a friend's laptop. We'd hunker under her denim duvet and consume the episodes. Consume. That's the only word for it.
Advertisement – Continue Reading Below
From a tiny New Hampshire dorm room, ten (15) pounds overweight and my uncertain future unspooling before me, I was hungry for that escapist glamour. My heart would almost flutter when the bubbly, clickity theme song emerged from those tinny speakers. Carrie, Samantha, Miranda, and Charlotte all seemed accomplished, sexy, and powerful—and they never, ever mentioned acceptance letters, third-tier schools, or getting waitlisted, words I couldn't seem to stop mouthing, hearing or reading. Twenty years later, I also don't use those words any more, and through a certain lens, I'm more like those women than I ever thought possible. And from where I stand now, I also couldn't help but wonder…did other people have the same visceral memories of their first Sex and the City viewing? Of course they did.
"My son is 14 now, but the show was extremely important to me when he was a baby. As a new mom I was a little bit shellshocked about how cloistered, alone, and sealed off from the world you feel. It was such a great escape to my previous life of young women going out and having fun and dating. Every night when he would go to sleep, at like 7 or 8. I would binge-watch the show. I loved Carrie's apartment, I loved her relationship with Big, I loved Patricia Fields' wardrobe. I love when Carrie would wear a wear a sports jersey with a skirt and high heel pumps. Or a wife beater at home. I'll never forget any of it. My outfit today—white pumps with a black and red striped dress—is completely inspired by Carrie. She made me love white pumps."—Clare Vivier, designer and founder of Clare V.
"As a nerdy elementary school student living in the 'burbs—I grew up in Westchester—Sex and the City was a peek into another world. A revolving door of men, a credit card to buy clothes, a group of pretty best friends…all things that seemed unreachable at the time but probably had a lot to do with my choosing New York for college and for work. Also, I remember being puzzled but intrigued by all the dirty sex talk. Definitely opened my eyes."—Stephanie Nass, chef and entertaining expert (chefanie.com)
"It's serendipitous timing because my 2o year anniversary with my husband is also this year. I'd spent most of my twenties running around being single in New York City and while my life was far less glamorous and my clothes much less fabulous, watching Sex the City was a way to vicariously revisit that time in my life. All the while feeling pretty relieved that that was behind me, of course. My husband and I lived in Brooklyn heights, and we'd always get Grimaldi's pizza to watch. My takeaway looking back now is just how important female friendship are, in whatever form they take. Female friendships have supported and sustained me so much of my life. That's what spoke to me."—Greer Hendricks, New York Times bestselling co-author of The Wife Between Us
"Mostly I remember the HBO theme music! That blip sound. It was almost a part of the show. [My now wife] Kim Gieske and I were dating and she had gotten a SATC lucite box collectors set of all the seasons. She had just bought a little beach shack in Bellport, Long Island. We would have spent the week hustling away at Condé Nast in Manhattan—where we met—and then we'd drive to the beach and watch episodes of people hustling away in N.Y.C. Mr Big was rumored to be modeled after this slick GQ publisher iIknew. It was all very meta. Also I'll never forget the associate publisher of Glamour was the sister of "pee on me guy!" Such a good time capsule of N.Y.C."—Donald Robertson, artist