[ad_1]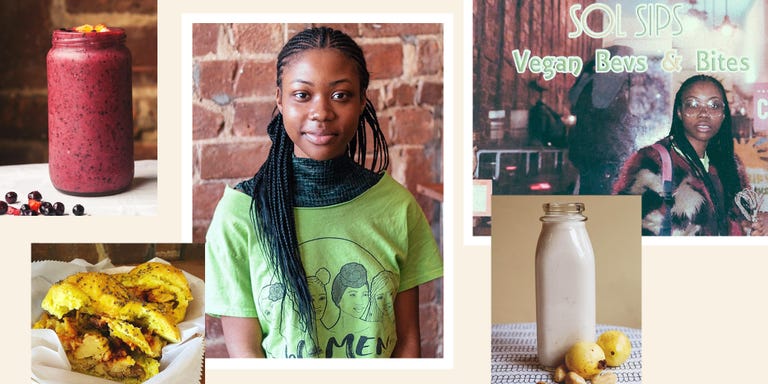 Instagramcourtesy + @b_scorsatto
When I first sit down with Francesca Chaney, I immediately notice one thing: her tattoo. Black lines on the inside of her left forearm create the outline of a potted plant, which seems almost too relevant as the two of us talk inside of Sol Sips, the vegan restaurant in Bushwick, Brooklyn, that the 22-year-old recently opened, which also happens to be dotted with its own real-life greenery.
Advertisement – Continue Reading Below
"I feel like I'm in such a space in my life right now, where a lot of the seeds that I've planted have really come into fruition," she says, as she explains that she got the tattoo a few weeks ago. "And then it's also about continuing to plant. Because there's always going to be ebbs and flows. There are challenging aspects of it, so I like that it's on my wrist because I'm just like, 'Okay keep planting. Just continue to plant.'"
The success she's referring to is, of course, Sol Sips. For Chaney, who can now bill herself as a young, black female business owner, the idea started back when she was a full-time student, working three jobs, and still trying to stay healthy. She didn't feel like she had many options where she was living, so she began making organic drinks with four ingredients or less. The goal was to create simple, nutrient-rich beverages for herself and her community; she started selling them at her cousin's apothecary and at festivals and then realized that not only were people buying the drinks, they were actually seeing the benefits.
Advertisement – Continue Reading Below
Now, she's taken Sol Sips from homegrown business to pop-up to permanent fixture in Brooklyn, and she's hoping to continue to bring healthy food to a community that might not normally have access to it.
The menu, which is posted plainly in the window of the restaurant, shows off the organic fare. Drinks range from $6 to $9 while food ranges from $4 to $10. But when she first began the pop-up, Chaney says she felt that Sol Sips was becoming gentrified itself, the exact opposite of what she had set out to do. So a month later, she implemented a sliding scale brunch: Every Saturday from 11 A.M. to 4 P.M., Sol Sips offer a full meal and beverage for anywhere between $7 and $15—customers pay what they're comfortable with. "I didn't want it to be a thing where my own personal friends were not able to come and eat here because they felt like it was expensive," she says.
It's all very intentional, a thoughtful drive that goes into every decision she makes. Chaney doesn't want it just to be a vegan restaurant, she wants it to be a vegan restaurant that's accessible for people who've been shut out of the "wellness" industry because they can no longer afford it. She doesn't want it to just be accessible, she also wants it to be a welcoming, non-judgmental space for anyone who wants a bite.
Advertisement – Continue Reading Below
Advertisement – Continue Reading Below
"I guess there was this assumption that I was doing this to be a hero or something," she explains. "[But] it was for me first and foremost. Then it extended to community because just living in East New York in high school… and knowing that there were not options for me to have a healthy vegetarian meal outside of my home… just because the option isn't there doesn't mean that we're not seeking the option."
But at the end of the day, Chaney is still just a college student (she's currently taking a semester off but will go back this August) figuring it out step-by-step. She has yet to make business cards, fliers, or put up official ads, but through word-of-mouth and social media, she's been able to drum up enough funding and foot traffic. A couple days after opening, she changed the hours and pared down the menu to keep herself from getting burnt out and the restaurant running efficiently. These are hiccups any business owner might run into but being one in your 20s can present its own challenges.
"There's always going to be people that deal with you a certain way, will deal with me a certain way. Because not only am I young, not only am I a woman, I'm also a black woman. I'm also from East New York. And then I'm still finishing up my degree. There are so many different aspects that are really unconventional when you think about [a] business owner, especially within a neighborhood that is gentrified and continuing to be gentrified. So those are always things that come up. But then there's also an extreme amount of support that outweighs that."
And when it comes to advice to other young entrepreneurs, Chaney suggests finding your own source of support. She says there are no "no" people in her life right now; everyone around her is rooting for her and her business. And when that's the case, the only place she can grow is up.
Sol Sips is now open. Find out more, here.
[ad_2]

Source link