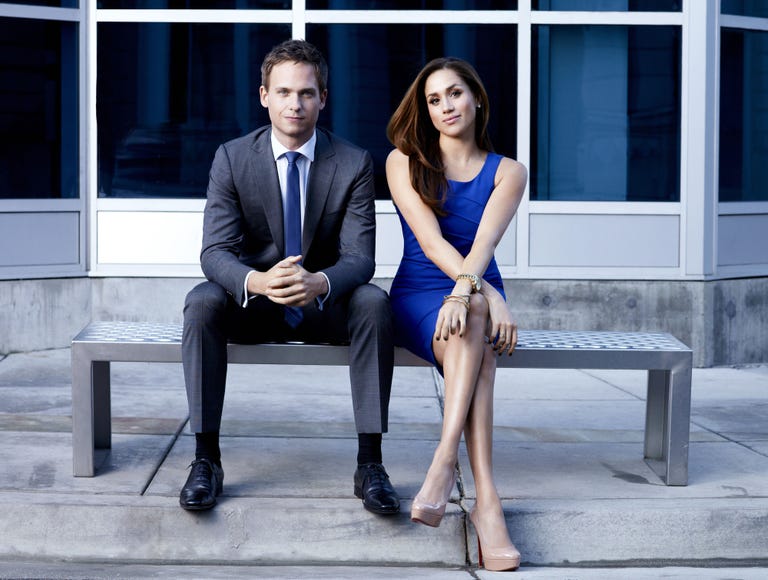 GettyRobert Ascroft/USA Network/NBCU Photo Bank
Patrick J Adams has defended his former Suits co-star Meghan Markle and commended her "power and compassion" following a "sick" and racist post directed at the actress by U.S. politician Paul Nehlen.
"Oh @pnehlen—you're a sad and sick man with no sense of shame or class," the actor wrote on Twitter.
Advertisement – Continue Reading Below
"Get a life. And don't go anywhere near MM—she's got more power, strength, honor and compassion in her fingernail than you'll ever know in this lifetime.
"Way above your weight class."
Republican politician and Donald Trump supporter Nehlen reportedly superimposed a picture of Cheddar Man—the oldest skeleton to be recently found in the UK and was revealed to have dark skin—onto Meghan Markle's face.
The supporter tweeted the image, which also featured Prince Harry, with the caption: 'Honey, does this tie make my face look pale?'
His Twitter account has since been suspended, with The Washington Post also speculating that he has been banned because of charges of anti-Semitism.
Advertisement – Continue Reading Below
Meanwhile, Markle and Adams became close friends after playing love interests Rachel Zane and Mike Ross on hit legal drama Suits.
Following the announcement of Prince Harry and Markle's engagement in November last year, the star paid tribute to his cast mate and called the 33-year-old royal a "lucky man."
"Playing Meghan's television partner for the better part of a decade uniquely qualifies me to say this: Your Royal Highness, you are a lucky man and I know your long life together will be joyful, productive and hilarious," Adams wrote on Instagram.
Advertisement – Continue Reading Below
Advertisement – Continue Reading Below
"Meghan, so happy for you, friend. Much love."
He had also retweeted Kensington Palace's engagement announcement before jokingly added: "She said she was just going out to get some milk…"
It was recently confirmed that Suits will continue into season 8 without Markle and Adams, with show creator and executive producer Aaron Korsh announcing: "I would like to thank Patrick and Meghan for their extraordinary contributions over the last seven years.
Advertisement – Continue Reading Below
"Not only have they been outstanding in their roles as Mike and Rachel, they are also superb human beings who will always be beloved members of the Suits family, and we wish them well in their days to come."
Markle previously said she would be giving up her acting career to focus on her philanthropy work with Harry, saying in her first joint interview with the Prince after their engagement news: "I don't see it as giving anything up, I just see it as a change…
"It's a new chapter."