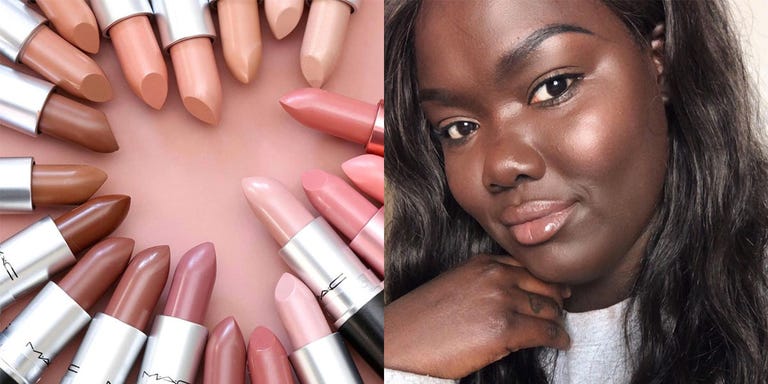 Instagram/maccosmetics and nymatang
We'll say it over and over again: "nude" is not a color. But, it is a term widely (erroneously) used in the beauty industry to describe a neutral, skin-toned makeup shade. Lipsticks described as "nude" often have a pink, peach, or beige hue but, of course, this is not an accurate representation for people with deeper skin tones.
At least campaigns like the artist-led Nude Against Nude, Cover FX's recent #NudeIsNotBeige, and continuous calls for change from YouTube vloggers like Jackie Aina have exposed the problem loudly and clearly. Thankfully, more beauty brands have started stepping up to the plate. It's now easier than ever to find more inclusive options for everyone to achieve that once-elusive your-lips-but-better finish. Ahead, find the companies that have got you covered.
Beauty Bakerie
Insta-famous brand Beauty Bakerie is beloved for its dessert-inspired products. Its recent launch, Nude-tella Matte Liquid Lip Whip ($25 for all 4), actually smells like Nutella, but also includes four shades especially flattering for people of color. If these four don't suit you, fear not — countless other Lip Whip ($20) shades definitely will. Plus, the brand is Black-owned, so you know it is looking out for shoppers with melanin.
Advertisement – Continue Reading Below
Advertisement – Continue Reading Below
Mented Cosmetics
Mented is actually short for "pigmented" — the founders started the brand specifically with darker skin tones in mind. Its creamy, moisturizing, and vegan lipsticks ($17) come in nine shades to suit complexions often ignored by mainstream beauty brands.
Advertisement – Continue Reading Below
Advertisement – Continue Reading Below
Nudestix
Nudestix's whole mission is about achieving natural-looking makeup, so it boasts countless neutral lipstick hues. Rose, chestnut, deep brown and every lip color in between is represented. The Creator's Palette ($59), a collaboration with six beauty influencers, includes all of the above. However, peruse the brand's entire lip collection and you'll surely find what you're looking for, whether it's a solid everyday matte or a multipurpose lips-and-cheeks tint.
Advertisement – Continue Reading Below
Advertisement – Continue Reading Below
NYX Cosmetics
NYX's Lip Lingerie collection ($7) has an impressive 24 matte shades catering to both different skin tones and undertones. Lip Lingerie isn't the brand's only "nude" offering—there are many candidates in the brand's beloved 34-shade Soft Matte Lip Cream ($7) range, too.
Advertisement – Continue Reading Below
Advertisement – Continue Reading Below
Advertisement – Continue Reading Below
Advertisement – Continue Reading Below
Advertisement – Continue Reading Below
Advertisement – Continue Reading Below