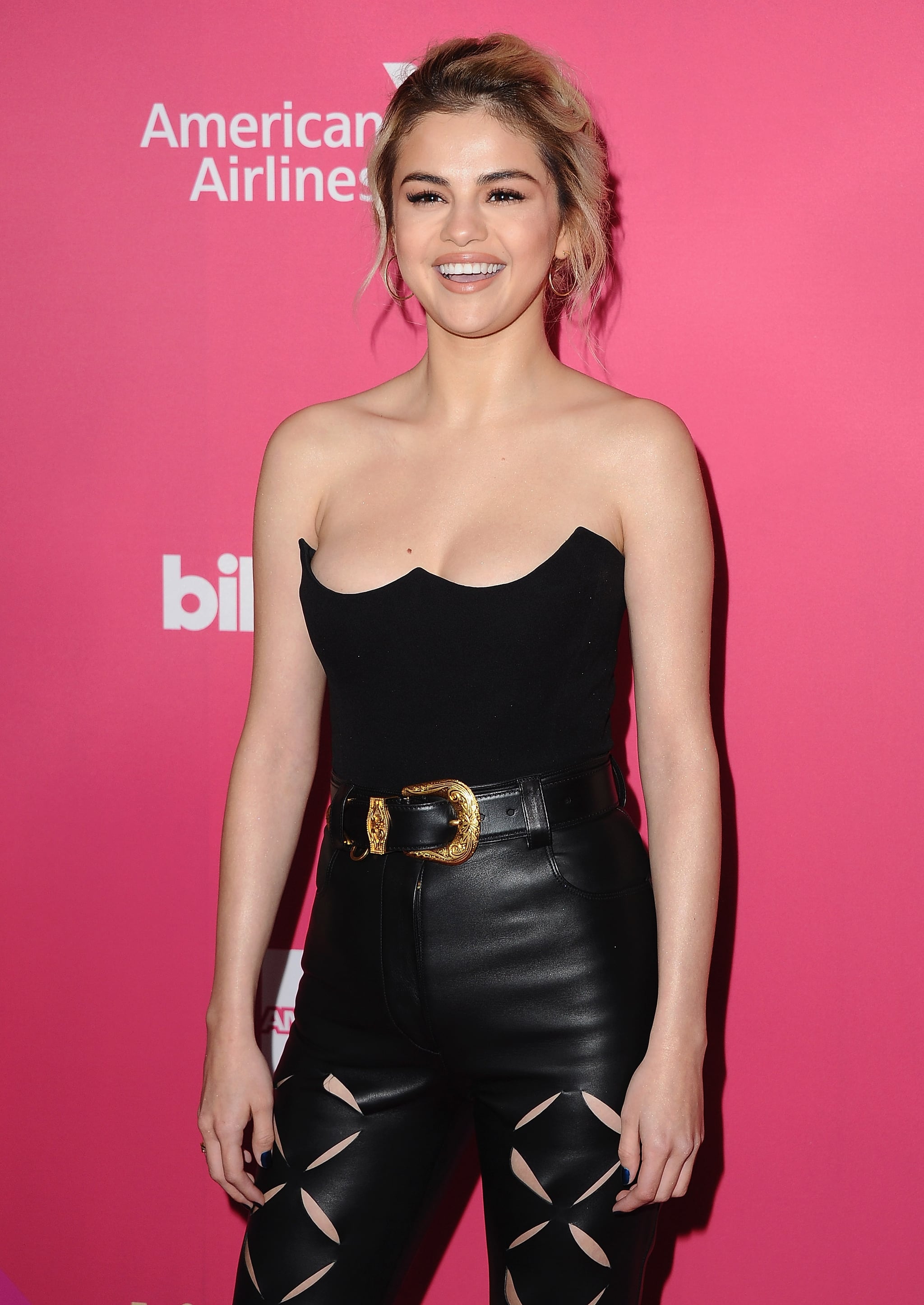 Selena Gomez is Billboard's 2017 woman of the year. The 25-year-old singer was honored with the annual award at the Women in Music ceremony on Nov. 30, after a pivotal year and return to the spotlight. Prior to the ceremony, Selena sat down for an emotional interview with Billboard, where she opened up about how she got to where she is today and the therapy that helped her through. After being diagnosed with lupus in 2013, she struggled with depression and anxiety, checking herself into rehab in 2014 and 2016.
In the interview, Selena discussed doing equestrian therapy (commonly referred to as equine therapy) while at rehab in Tennessee and how it really taught her to be present physically and mentally. This horse-assisted therapy typically pairs a horse with an individual as a way to help confront emotional and mental health issues. According to a website about the therapy, "horses have the ability to respond immediately and give feedback to the rider's action or behavior. Horses are also able to mirror the rider's emotion." This kind of relationship can help develop self-worth, trust, communication, emotional awareness, impulse control, and problem-solving skills.
Selena recalled what it was like taking part in equine therapy for the first time. "I felt very angry, had a lot of stress in my body and the horse took off, completely left," she said, explaining that she chose the "emotionally unavailable" horse.
"And I just kept getting more angry and frustrated. The horses can really sense your energy. After trying multiple times, the therapist looked at me and said, 'You know what? I need you to take the nice, sweet, kind, available horse. I want you to accept what you have in front of you.'"
She added, "I took a lot of deep breaths, walked around the stable, and by the time I came back, I felt completely settled in a 'that's enough' sort of way. . . It comes back to the idea of being present. And that was four years ago. A lot has changed. I feel a lot more centered, more accepting."
This isn't the first time she's opened up about the practice, as she called equine therapy "so beautiful" in an interview with InStyle earlier this year. "It was hard, obviously," Selena said. "But I knew what my heart was saying, and I thought, 'OK, I think this has helped me become stronger for other people.'"
In a 2008 New York Times article, the owners of a therapeutic horse-riding center discussed why this type of therapy works so well. "A horse couldn't care less if someone has been in jail or has a learning disability," Ms. Krupa, the owner of Rein Dancer Therapeutic Riding Center, said. "They only judge you by how you are at the moment. You're even allowed to be afraid around a horse as long as you admit that you're afraid. I've seen a horse walk right up to a terrified kid and put their heads in their chests."
"It's not about behavior modification," a social worker told the Times. "It's more about self-confidence and communication skills. There is a confidence that comes from succeeding in a new experience and doing something they wouldn't ordinarily do."