When it comes to working my core, I really like the plank and all its variations. And I am fan of working my abs while standing; it makes me feel tough. But sometimes I want to lay down when I work my abs, and when I do, I want my abs to burn. And this frog crunch is my go-to ab exercise when I just can't get off the floor.
Frog Crunch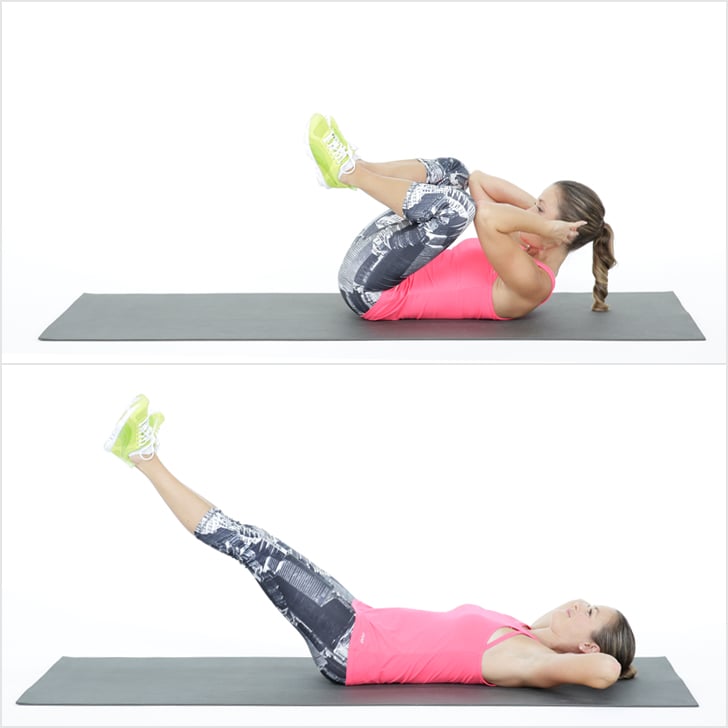 Start on your back with your hands behind your head and your elbows wide. Keeping your heels together and toes pointed out, bring your knees to touch your elbows as you perform a crunch, bringing your upper back and head off the floor.
Keeping your abs engaged and heels together, lengthen your legs away from your center as you lower your head to the floor. Your low back should not pull away from the floor. If it does, aim your legs higher as you straighten them.
Draw your legs back into the frog position to complete and curl your pelvis slightly off the ground a bit, like a tiny reverse crunch. Hold this position for a count and focus on pulling the your navel to your spine. This completes one rep.
I suggest starting with 15 reps per set and doing at least two to three sets.
Image Source: POPSUGAR Photography