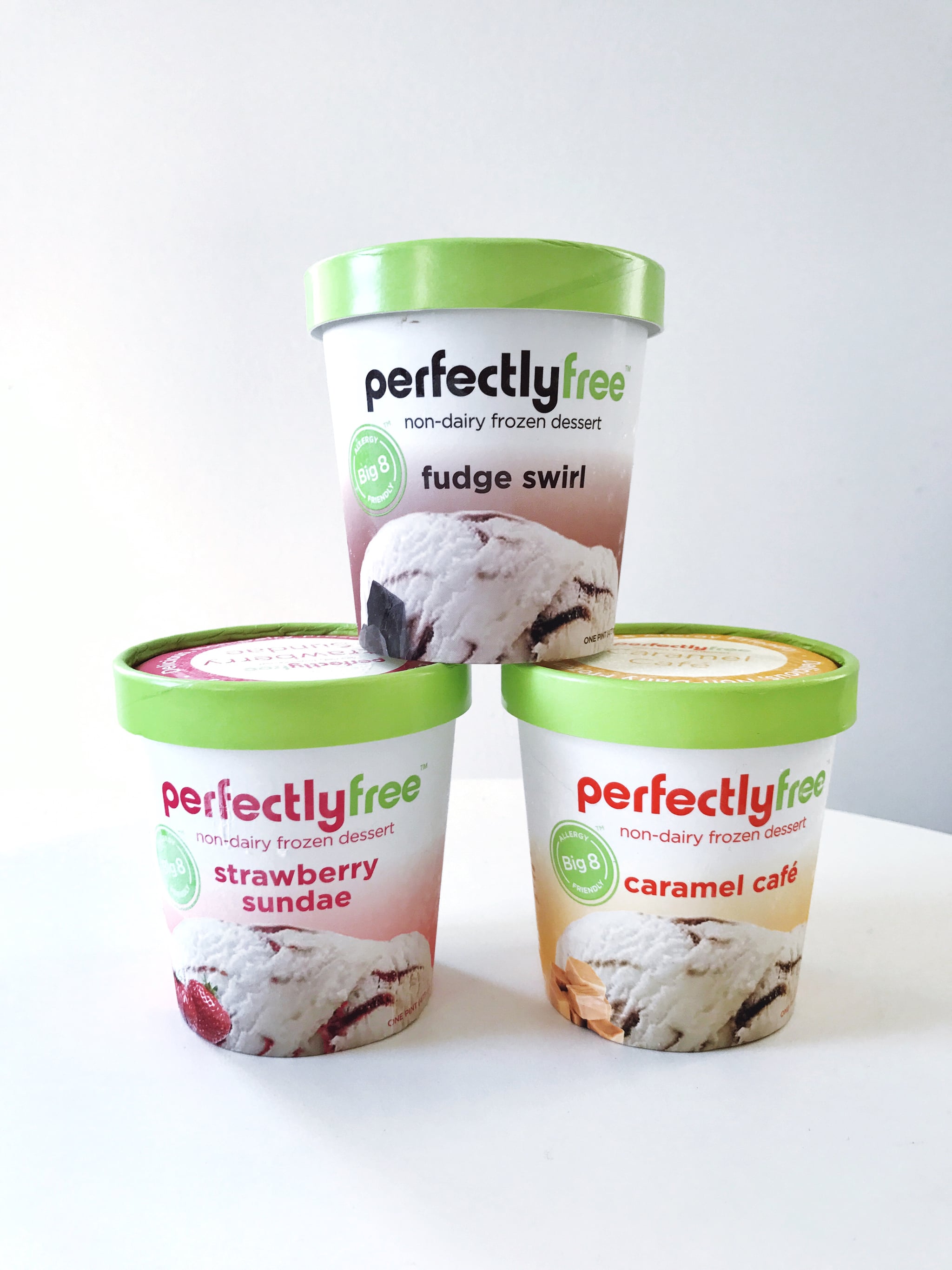 Wow. We're a little stunned by how freakin' delicious these three pints from Perfectly Free are. The "bascially everything-free" ice creams wooed both us and our taste-testing colleagues, and we're already scrambling for another pint. While they're definitely not low-calorie (they're made from coconut cream and sugar — so, yum!), they're an exceptional option for anyone looking for a dairy-free, soy-free, gluten-free, peanut-free, tree-nut-free option.
If you've got dietary restrictions but love ice cream, this is a literal dream come true. Even our nonrestricted eaters liked this more than traditional ice cream!
When we opened the pints, we were enchanted by swirls and gobs of sundae topping. Each ice cream is a creamy vanilla coconut-based ice cream but topped with its respective flavor in an ooey, gooey sauce. Fudge Swirl, Caramel Café, and Strawberry Sundae were bringing serious scoop-shop vibes, with a cleaner edge.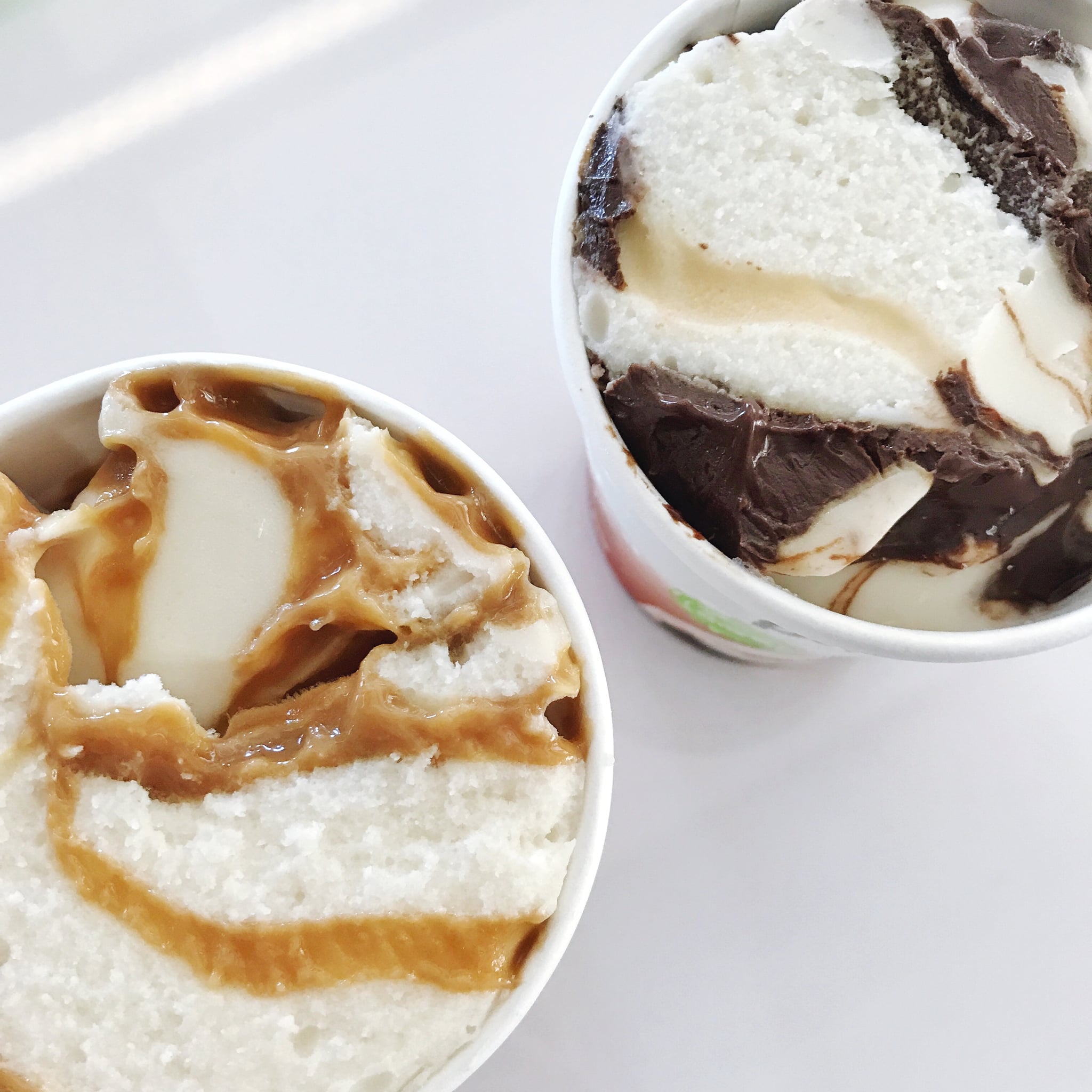 "Best dairy-free I've had!"
Each pint's calories vary — a 1/2 cup serving brings in between 210 and 220 calories with 14 to 15 grams of sugar, 1 gram of protein, and 9 to 10 grams of fat. Unless you're not eating sugar, this is a treat that pretty much anyone with any dietary restriction can eat — and even if you have no restrictions (no rules!), you'll still enjoy it. Here's what everyone had to say about the flavors.
Fudge Swirl
"Super creamy! Not overly sweet — the fudge swirls are SO good!"
"Wow! The fudge is INSANELY good!"
"Fudge on fleek."
"Love it! Doesn't make my mouth or throat sticky."
"A little *too* chocolaty."
"Unlike other ice creams, there is enough fudge in this!"
"I generally don't like chocolate in my ice cream (I know, I'm a freak), but this is great!"
"Really good!"
"Better than regular ice cream."
"Obsessed with the fudge."
Strawberry Sundae
"WOW! LOVE!"
"Delishhhhhh!"
"Not a fan of strawberry, but this is very refreshing!"
"I don't like the smell of coconut, but I love this!"
"Delish!"
"Tastes like a shortcake!"
"Legit tastes like ice cream! Love this so much!"
"Yum, yum, yum. Best dairy-free I've had!"
"Tastes like a perfect ice cream."
"Just like the strawberry shortcake pops from the ice cream truck but better!"
Caramel Café
"GIMME GIMME GIMME."
"Love it, but wish it was just caramel (not coffee). Love the swirls, though!"
"Wish there was a stronger caramel flavor."
"Not too strong or sweet, but very refreshing."
"Tastes like a latte!"
"Tastes like a latte from Starbucks!"
"Rich and creamy — on par with Halo Top!"
"Has a bit of a coffee aftertaste . . . not loving this."
"This had a strange aftertaste."
"Really creamy and fab!"
"Delicious!"
"Wish it was more caramel and less Werther's grandma candy."
The Boston-based brand sells its delicious desserts at New England Whole Foods locations and supermarkets on the East Coast.