[ad_1]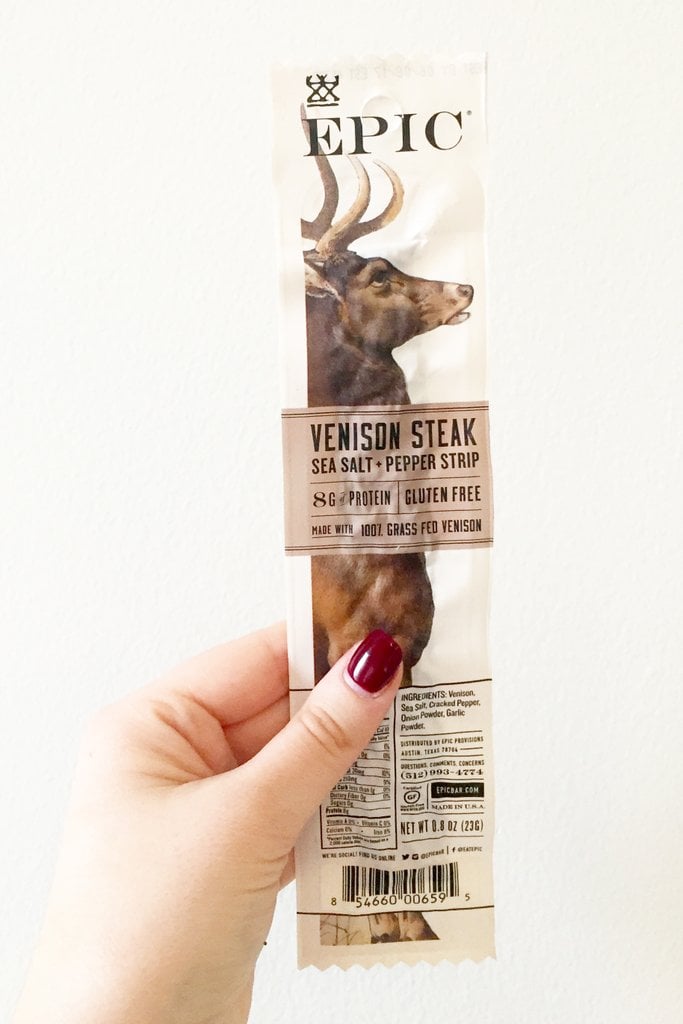 Whether you're ready to go Paleo, currently embrace the lifestyle, or just want to make some better snack choices, we've got your back! I took to Trader Joe's aisles to scout out the best snacks that are Paleo-friendly and equally as tasty. These picks will keep your appetite at ease, your taste buds satisfied, and your tummy feeling great. Get ready to be the best modern-day cavewoman (or man) you can be!
Epic Bars: If you know Paleo, you know it's all about packing in the protein and enjoying some good, quality meat. Epic Bars provide just that with simple ingredients and high-quality, lean animal protein.
Roasted Cocoa Nibs: Cocoa nibs are a fixture in the Paleo community. Whether it's adding them to your protein shake, blending them in your Bulletproof Coffee, or nibbling on them straight out of the bag, these little puppies are de-li-cious. Plus, they pack a natural energy boost for that midday slump.
Organic Kombucha: The only other drink (aside from a morning MCT-boosted cup of joe) that Paleo-preachers love is some good ol' gut-healthy kombucha. Trader Joe's has a variety of options to choose from. Stick with GT's brand to skip the added sugar.
100 Percent Cocoa Dark Chocolate: Technically, most dark chocolate with over 72 percent cacao is considered "paleo friendly." It's rare, however, to find yourself a dark chocolate bar that's 100 percent and doesn't make you want to spit it out. Montezuma's 100% Cocoa Solids Dark Chocolate Absolute Black with Cacao Nibs is a pick suited for my fellow bitter-chocolate-lovers. It's strong, but don't worry: it still has a nice balance with loads of benefits.
Chomps Snack Sticks: If meat bars don't float your boat, these grass-fed beef sticks will definitely help you pack in the protein without all the additives of a Slim Jim.
Fancy Raw Mixed Nuts: Oh, you fancy, huh? Grab yourself this nut mix of almonds, cashews, hazelnuts, and Brazil nuts. It's loaded with healthy fats and omegas . . . perfect for a Paleo diet.
RX Bars: Finally, a bar with simple ingredients! If you're looking for a nice treat to fancy your sweet tooth, this is a great supplement to your traditional candy bar.
Grainless Granola: A little too lazy to build your own trail mix? Try the new grainless granola pack! The ingredients include dried dates and bananas. They don't, however, mention whether or not they're sulfured or have added sugar, so proceed with caution on this one!
Wild Sockeye Smoked Salmon: This is one of my favorite snacks! They sell it in four-ounce packs, which is a perfect serving size for a snack or for an entrée. They have two versions: just make sure to get the one without added brown sugar to keep it Paleo-approved.
Organic Unsweetened Coconut Chips: No Paleo diet is complete without some coconut! These are one of my favorites because they're so versatile. I normally snack on them straight out of the bag, but you can also mix them in trail mix or mix them in your chia pudding! They're unsweetened, certified organic, and give you that perfect hint of coconut.
Plantain Chips: Corn is a big no-no when going Paleo. But that doesn't mean you have to fully say goodbye to chips. Plantain chips are a much friendlier option for those following a Paleo diet.
Freeze-Dried Berries: Just blueberries. Just raspberries. That's it. No sulfites or sulfates. Just your favorite berries, dried, without any added sugar. They've got a nice crunch and (bonus) a whole bag is one serving!
Dried Mango Slices: Berries don't do it for you? Chew on some mango slices! The Trader Joe's Just Mango Slices are also unsulfured and unsweetened.
Cage-Free Fresh Hard-Boiled Eggs: These little bad boys are what nutrition experts call the protein bombs! Now, Trader Joe's has them already boiled and bagged for you. Just grab and go as you need!
Trader José's Avocado's Number Guacamole to Go: Grab and go, guac? Yes way, José! Trader Joe's "Trader José's" brand has your avocado-fix set with ready-to-eat guacamole packs. Grab some plantain chips or some carrot sticks and snack on!
Unsweetened Matcha Green Tea: Matcha is all the rage right now. With the new ready-made green tea to-go, you're set to pack in the antioxidants with a nice little caffeine pick-me-up! Cheers!
Whether you're grabbing one of these snacks to fuel up for CrossFit or to munch on in between meals, they're sure to help keep you and your efforts going strong.
Image Source: POPSUGAR Photography / Erin Cullum
[ad_2]

Source link