[ad_1]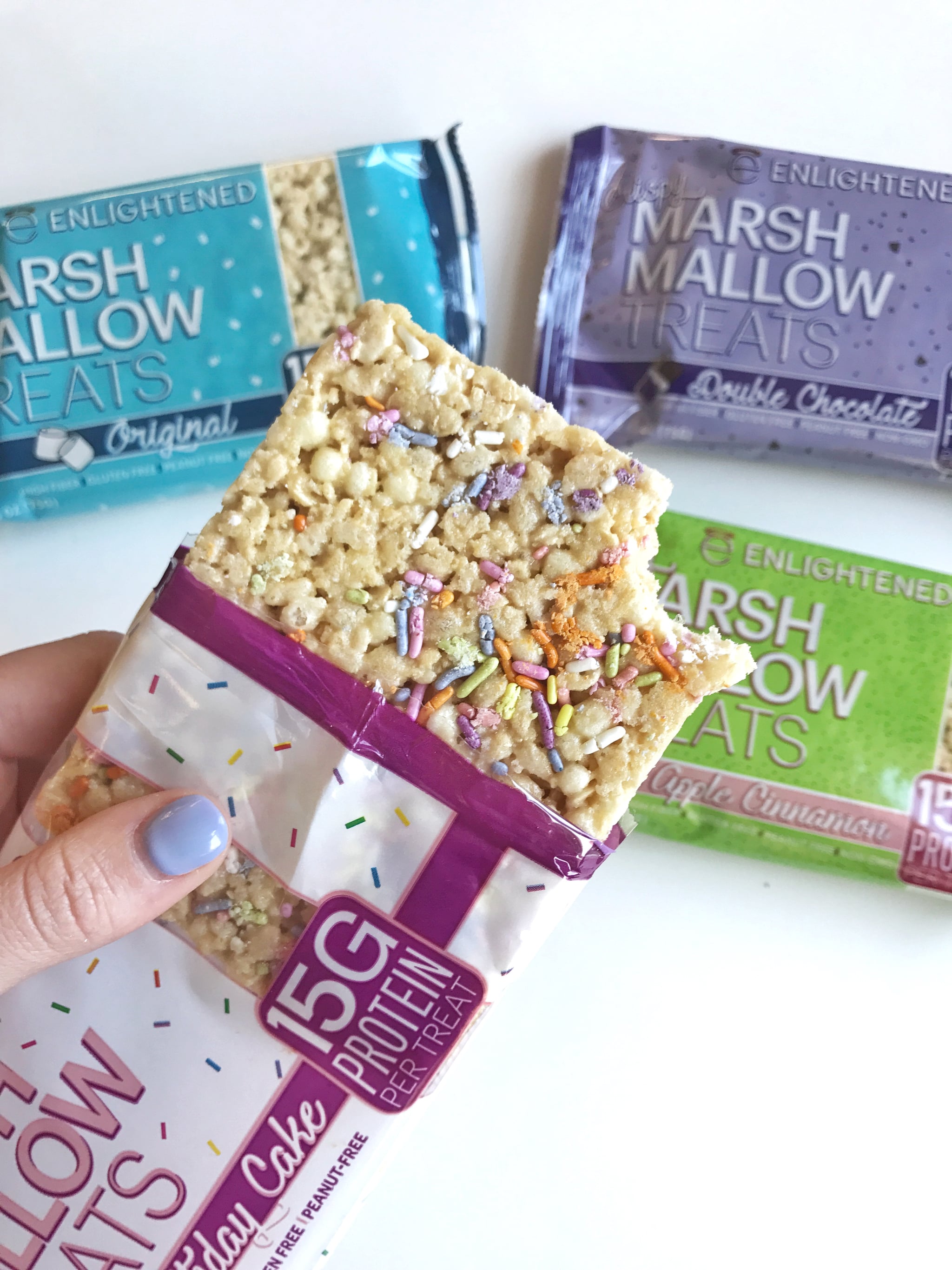 Name a food you love, and chances are you can find a high-protein variety. Chips? They've made 'em. Waffles? Absolutely. Ice cream? Are you kidding! So many protein-packed scoops.
Speaking of protein-packed ice cream, Enlightened — a major player in the healthy ice cream market — just released its Marshmallow Treats. And, as you may have guessed, they're loaded with protein: 15 grams, to be exact. Would you swap your desserts for one of these? Or maybe trade in protein bars for something that tastes a little more familiar? Our colleagues were eager to try — so we hosted a taste test featuring the four available flavors: original, double chocolate, birthday cake, and apple cinnamon.
These bars are made with whey protein and dairy (sorry, vegans) and are low in sugar and fat, with 9 and 3 grams each, respectively. Since it's made of, you know, rice, this bar is a little higher on the carb side, with 48 grams. They're currently available at GNC stores nationwide and online.
Everyone in the office was gunning for the birthday cake flavor — it was the first variety to get eaten up completely — but the sleeper hit was the apple cinnamon. See the full reviews below. Our testers ranged from self-proclaimed healthy eaters to nondieters who were comparing these to their favorite Kellogg's classic treat, so results range from "too sweet" to "not sweet enough," depending on who you ask. But on the whole, these were a massive hit in our office.
Original
"Best one! Would eat these over a protein bar."
"Great classic with a vanilla taste."
"Great! Not as marshmallowy as I'd have hoped, but pretty darn close!"
"A little too sweet, but otherwise good."
"I feel like I want a sweeter treat."
"Tastes like the real thing . . . almost. It's delicious and I would replace my dessert with this!"
Birthday Cake
"Pretty to look at, and a supertasty treat."
"Sounds kinda gross, but tastes really good!"
"Would choose this to replace a protein bar."
"Love the flavor!"
"I like this one — the vanilla adds what's missing (flavor-profile-wise) from the original and chocolate."
"Great taste, and I feel a little more healthy eating it."
"This is fantastic! Very close to a regular marshmallow bar."
"Would absolutely eat this instead of a bar; it's SO cakey and I love the Funfetti flavor."
"Not quite marshmallowy enough."
Apple Cinnamon
"WOW. So much flavor. Would stock up on these in the Fall."
"Tastes like a rice cake but better. Would totally have this as a snack or in the AM for a quick breakfast."
"Think warm cinnamon apple oatmeal meets a light rice cake — so flavorful and good."
"Tasty!"
"Best of the bunch. V good!"
"So surprised by this one."
Double Chocolate
"Not as much choco flavor as what I was hoping for; still good though."
"Same as above comment. I like that it's not too sweet."
"Pretty good, not supersweet. A bit of a weird aftertaste."
"Cocoa crispie taste; love the choco chips!"
"Tastes like less sweet Cocoa Pebbles. Pretty good!"
"Chalky and flavorless."
"Would enjoy a bolder chocolate/sugar flavor."
[ad_2]

Source link